Dennis, Gartland & Niergarth celebrates 50 years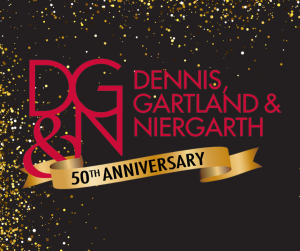 TRAVERSE CITY, MI – Dennis, Gartland & Niergarth (DGN), northern Michigan's largest locally owned, full-service public accounting firm, is celebrating 50 years in business.
DGN was founded in Traverse City on October 1, 1973. Founding partner Tom Gartland described opening the office with used desks, a part-time secretary and high goals.  "State of the art" technology, at the time, included an IBM Selectric typewriter, "white-out," ten-key calculators and a very basic single sheet copy machine.
In the last half-century, DGN has experienced tremendous growth, including growing into a second location in Petoskey, MI in 2019. Brad Niergarth joined the firm in 1979 and became a partner in 1984.  The firm's name was changed to Dennis, Gartland & Niergarth at that time. Currently more than 55 professionals with 12 partners serve northern Michigan from Traverse City and Petoskey.
Services have expanded to a comprehensive range of tax, audit and business consultation services such as business valuations, estate and retirement planning, IT, fraud prevention, mergers and acquisitions, and business management.  Specialty industry niche teams provide multidisciplinary expertise in Manufacturing, Oil and Gas, Professional Offices, Agribusiness, Hospitality, Small Business and Government and Nonprofit Organizations
DGN Wealthcare, a separate wealth management firm was opened in 2001, and is led by financial advisor Rick Garner.
For more information, contact Dennis, Gartland & Niergarth at (231) 946-1722 or visit www.dgncpa.com .